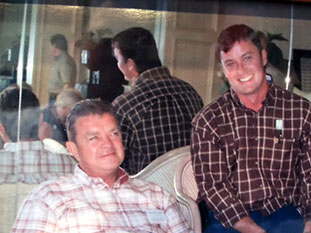 H&H Industries | Release: 3/9/2015
Statement Regarding the Passing of Michael ("Mike") Allen Hickman (H&H Industries Founder & Partial Owner)
Mr. Noah M Hickman, President/ Partial Owner of H&H Industries INC. regretfully announced the recent passing of his father Michael ("Mike") Allen Hickman.
Mike was the founder/ Partial Owner and also served as a former president of H&H Industries. Many years ago he was convinced by a friend and former U.S. Military Paratrooper, that the tire business was his calling. Following his service in the military, Mike started a small retail and retread tire business in Ashland, KY, and as the business expanded and his clientele grew, Mike opened himself up for bigger challenges and expanded over to the OTR tire industry. In doing so he found himself traveling up to Oak Hill, OH many times thru out the week to visit a small OTR retreading service when his needs or the needs of his customers could no longer be accommodated by his current provider. Mike accepted an offer to purchase the small single bay facility in 1978, which has since morphed into a ninety thousand sq. ft. facility located on a 25 acre lot that houses the most state of the art OTR Retread/Repair equipment as well as an inventory consisting of used, new and retread/repairable OTR casings which remain unequaled on the planet. Mike's desire to become the largest OTR Retreader on the planet will continue thru the work of his family.
Mike is survived by brother Jody Hickman, son Noah Hickman, grandchild Cade Hickman and others. Per the wishes of Mike there will be no services, the spreading of his ashes at his Oklahoma farm will be at the discretion of the family as well as small family gathering at a cemetery located in Kentucky. He asked that in his passing he not trouble any friends or acquaintances who may feel compelled to attend a farewell service. In lieu of flowers donations may be made to The Riverside Christian School in Lost Creek, KY.
The Riverside Christian School General Delivery Lost Creek, KY 41348 Kathy Keck 606-666-2359 riverside@riversidechristian.org
Owners Noah Hickman, Ken Daniels and Jody Hickman , as well as the family and all the employees of H&H Industries would like to express their deepest gratitude for the humbling expressions of sympathy and compassion from so many over the past few days and also express that Mike held all of you in the greatest esteem and respect.